If you're looking to break away from traditional gastro pub dining, of which there are many lining the River Severn in Ironbridge, Chez Maw restaurant should be your first stop.
Located inside the picturesque Best Western Valley Hotel, Chez Maw has been established for 27 years and has gained consistent AA Rosette accreditation for its cuisine for over a decade.
Having spent time working as a chef myself, I understood the time and effort that goes into planning and preparing a menu. Each dish needs to complement the next and the ingredients must work in tandem with the changing seasons. Chez Maw achieves this perfectly.
The atmosphere on arrival was relaxing and straight away my wife and I could feel the weight of a busy working week being lifted from our shoulders. We were seated in the bar and attended to straight away. Lee our waiter was on hand with menus and the all important wine list.
As we mulled over classically inspired dishes we were given an amuse-bouche. A croquette filled with blue cheese and topped with a red pepper puree. It was a powerful start and one to wake up our taste buds. As a lover of strong cheese, it was deliciously welcoming.
Having made our selections we sipped wine and took in the surroundings. The decor and lighting was subtle and not at all overbearing. The melodic background music throughout seemed to wash away any stress.
We were seated at our table in a quiet corner of the restaurant and were surprised by a prelude to our meal. Lee presented us with a chicken and Waldorf salad, albeit a deconstructed take on the classic.
The chicken was well cooked. Soft, moist and perched on warm baby gem lettuce it was accompanied by caramelised pear and crispy chicken skin.
We then moved onto the starters. I love feathered game, it's succulent and packed full of flavour, so the opportunity to order it for my entrée and main course was a no brainer. My wife, who isn't a vegetarian, decided on the beetroot goats cheese mousse with roast fig and candied walnut.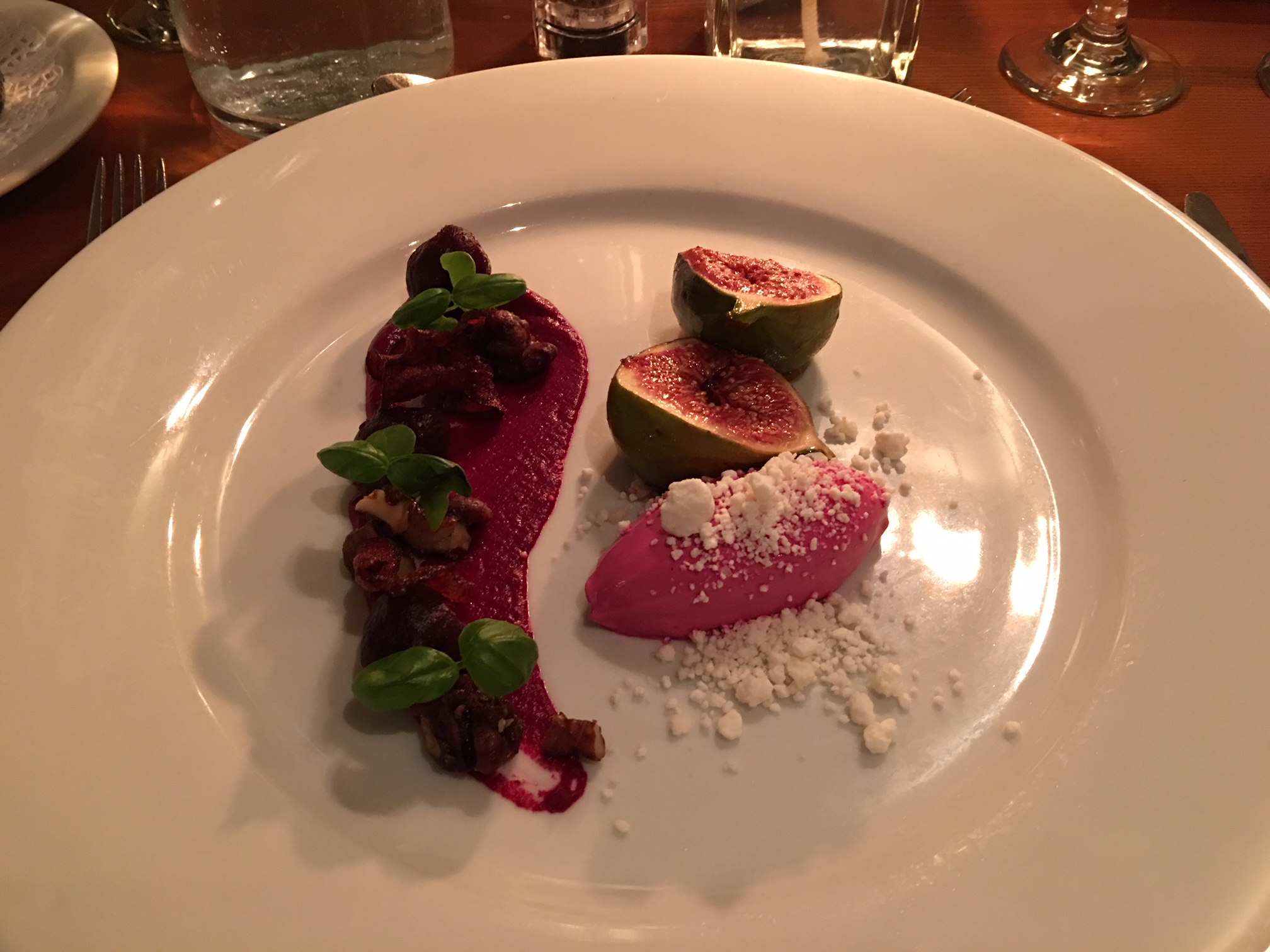 The pan seared pigeon breast was beautifully presented. Sat on top of pearl barley risotto, which makes a nice change from arborio rice, it was accompanied by a silky chestnut puree and a sweet blackberry jus. A winning combination.
At all times Lee was attentive to our needs and gave us plenty of time to enjoy the food and ambience, but at the same time was on hand to make sure that we had everything we needed to enjoy the meal
The main course of pheasant was served with sweet potato and purple sprouting broccoli. The quince puree enhanced the flavour of the meat and the crispy chicken skin added a light salty crunch.
I looked across the table with a hint of jealousy as my wife tucked into her pulled braised shoulder of Welsh lamb. The lamb appeared to fall apart at the slightest touch and the deep red wine jus seemed to lift the entire dish.


Rounding everything off was dessert. I'm a sucker for a good creme brulee so I was pleased to see one on the menu. You can't really leave it off. Cooked to perfection the caramelised apples added another dimension to the traditional vanilla flavour.
The sticky toffee pudding which was being devoured from across the table looked light and not too heavy. Like all the food throughout the evening, the consistent attention to detail and presentation was stunning.
We finished with coffee that was accompanied by a pair of bite sized cream filled macaroons, which to be honest I barely had room for, however, in the interest of quality gastronomy I took a bite.
If you want to book a table at Chez Maw restaurant or if you want to have a look at the full menu then more information can be found at http://www.thevalleyhotel.co.uk/restaurant